As a family-owned business that strives to operate responsibly, Andron places great value on giving back to our local communities. Be it through charitable donations, employee volunteering days or creating employment opportunities for disadvantaged people, we aim to bring positive social impact to the communities in which we have been a part for over 40 years.
As we continue to grow, so does our responsibility to our local communities. Over the years, we have partnered with UK charities and Social Enterprises to address various social issues. We are providing access to sustainable jobs for people furthest from the job market, supporting the wellbeing of disadvantaged children and young people, funding the building of social housing, tackling food insecurity, and providing relief to communities affected by war. We also understand the importance of employee involvement in our projects. As such, we offer our colleagues one paid 'volunteer day' to volunteer their time in local community projects close to their hearts.
Our Impact in 2022
Throughout 2022, Andron invested £46k into wellbeing and community projects. Our colleagues also helped us support local causes we are equally passionate about – from beach and canal cleaning to donating food to local food banks to sorting and packing Christmas presents for disadvantaged local children. Colleagues also gave back through our school and college programme, with school talks, career mentoring and CV writing workshops.
In this blog, we look back on some of the exceptional community causes we supported throughout the year. Full details will be available in our soon-to-be-published sustainability report, but for now, you can read the highlights below.
Remembering Andron's Chairman and co-founder with support for UCAN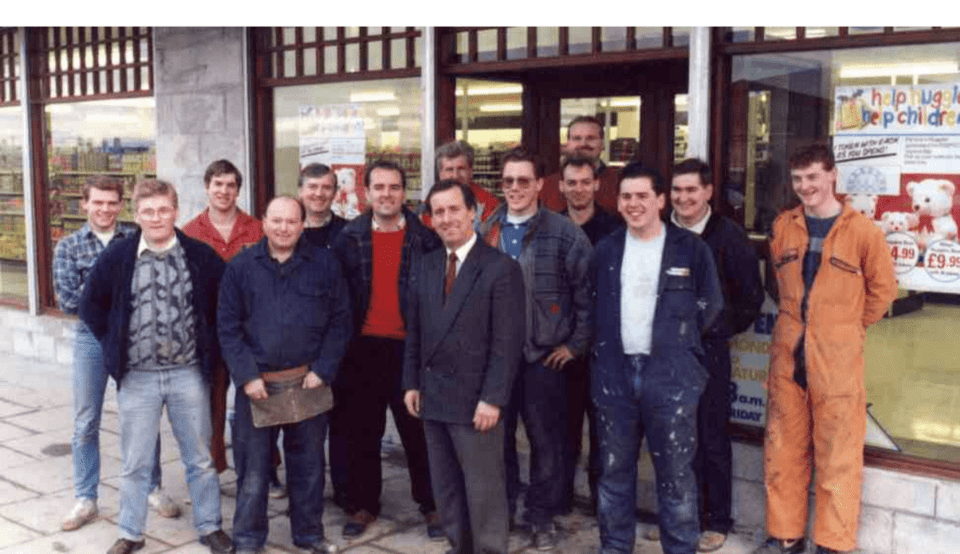 In memory of Andron's Chairman and co-founder, Ron Stewart Snr, who sadly passed away in 2022, we raised £6,000 and donated £10,000 to UCAN, a charity dedicated to raising awareness of urological cancers and improving support and quality of life for people and families affected.
It was Ron's wish for donations to be made to UCAN in his memory, and this kindness and generosity embody the family values that underpin everything we do. Although he is no longer with us, his legacy lives on through Andron, and he continues to impact so many lives now and will do for generations to come.
Creating employment opportunities for disadvantaged people across the UK
We believe in the transformative power of employment, and as such, we provide employment opportunities to people furthest from the job market through our Inclusive Futures employability programme.
Together with UK charities such as Social Bite, we are breaking down the barriers people from certain backgrounds face on their route to employment, including people who have experienced homelessness, people with previous convictions and young people not in education, employment, or training (NEET).
So far, we have provided ten jobs to disadvantaged people, with seven joining us through the programme in 2022. Additionally, following the success of our partnership with Social Bite, the charity has replicated a similar employability programme within their own business, creating a programme called "Jobs first", where Andron is acting as a pilot employer.
Supporting the mission to end homelessness
We are proud supporters of Social Bite and their mission to end homelessness.
Alongside our participation in Social Bite's Jobs First programme, we supported Social Bite's Festival of Kindness: a campaign to provide meals, gifts, accommodation and essential items to people who are homeless and vulnerable. Throughout the campaign, a £28 donation or a "Christmas of Kindness" provided a Christmas dinner, a gift, a pack of essential items and a bed for the night for someone experiencing homelessness. Andron proudly played a small part with a donation equivalent to just over 178 "Christmas of Kindness" for people in a situation of homelessness.
Additionally, Andron's colleagues in Aberdeen and Edinburgh volunteered at Social Bite cafes on Christmas Eve and Christmas Day to help provide a warm meal, loving company, and a Christmas present to open to people who are homeless and vulnerable.
Improving the lives of disadvantaged children and young people with Cash for Kids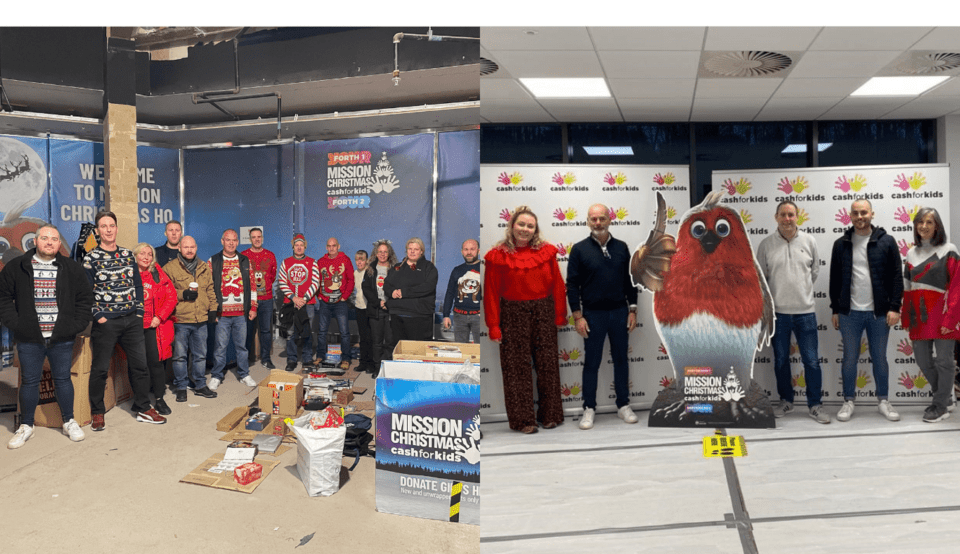 To achieve their full potential, Children must have their basic needs met— including food, shelter, and clothing. That's why we have partnered with Cash for Kids to improve the lives of disadvantaged children affected by poverty, illness, or neglect.
In 2022, Andron donated over £20,000 to Cash for Kids campaigns, including Mission Christmas and the Winter Coat Appeal, to support the wellbeing of children and families that need it the most.
During two weeks in December, four groups of Andron colleagues volunteered at the Mission Christmas cause, helping to sort and pack Christmas gifts for disadvantaged children in Aberdeen, Edinburgh, and Greater Manchester. Not only that, but our cleaning staff also helped keep the Aberdeen Mission Christmas HQ spotlessly clean throughout the campaign. Cash for Kids then distributed the gifts to children at risk of waking up to nothing on Christmas day.
Tackling food insecurity in our communities
We help support underserved communities across the UK to access the food and other household essentials they need.
We supported various food banks with donations, and members of staff from our Aberdeen office delivered 146kg worth of household essentials to a food bank in North Aberdeenshire. The Warehouse Co-ordinator at the foodbank acknowledged the contribution with some heartfelt words:
"We are continually humbled by the support we receive from people like you in our local communities. We are so grateful that you and your company are so community minded and prepared to help those who need a little bit of help from a food bank at a difficult time in their family's life."
Andron's site-based colleagues have also worked hard to increase food bank donations. For example, our colleagues at Golden Square Shopping Centre launched Foodbank Friday, an initiative encouraging school pupils to bring one item of non-perishable food to the drop-off point within the shopping centre each Friday. So far, 11 schools across Warrington have signed up for the initiative.
The Rochdale Exchange Shopping Centre also has a donation point in the centre. During Christmas, Andron's staff organised a collection and hand-delivered three crates of non-perishable goods.
Tackling plastic pollution with Surfers Against Sewage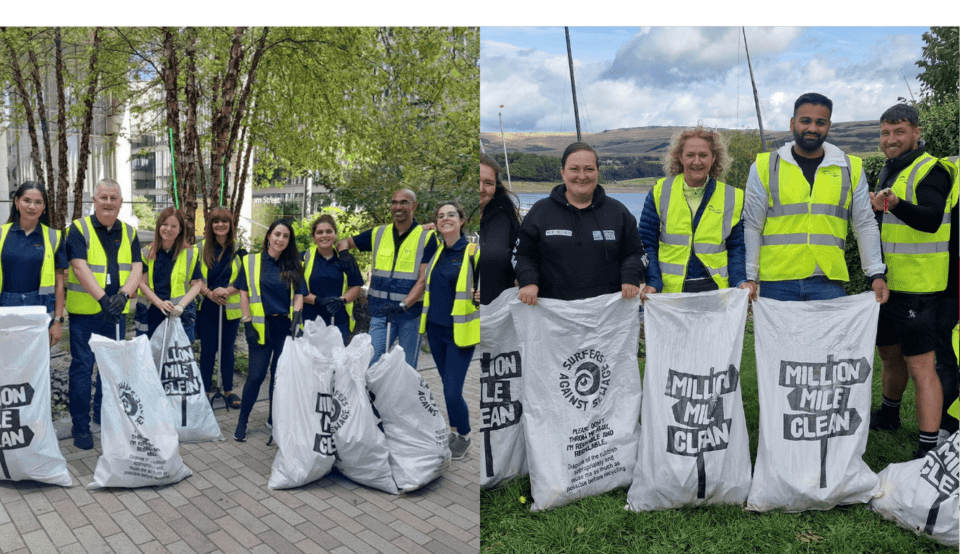 We believe in protecting our communities from pollution and helping to make the UK a cleaner, greener place for everyone to enjoy.
In 2022, our colleagues took to local streets, beaches, canals, and waterways to battle plastic pollution in support of Surfers Against Sewage and the Million Mile Clean. Colleagues from our London office took to London's Warwick Avenue, Little Venice and Paddington Basin. At the same time, colleagues at The Rochdale Exchange Shopping Centre and Church Square Shopping Centre took to their local beaches and parks. Collectively, our teams removed over 60 kilos of waste from our green spaces.
Inspiring the UK's future workforce
We are committed to providing young people with the skills and confidence for the world of work and helping them find fulfilling careers.
Through our school and college programme, Andron's head office staff visited schools in Aberdeen and Manchester. In partnership with Ahead Partnership and DYW, colleagues from Aberdeen paid several visits to pupils at Bucksburn Academy to facilitate developmental workshops. Our colleagues guided students through various communication, team building, problem-solving and goal-setting tasks to prepare and inspire the pupils to gain the skills they need beyond school.
Ukraine and the Disasters Emergency Committee
Like millions of people worldwide, we at Andron are appalled by the ongoing crisis in Ukraine. To help those impacted, we donated £10,000 to the Disasters Emergency Committee. This donation will help the DEC charities and their local partners in Ukraine and neighbouring countries meet the needs of all refugees and displaced people by providing food, water, hygiene parcels, shelter, and medical assistance.
Alongside our donation, Andron advertised for applicants through Employ Ukraine: a recruitment website which helps connect refugees from Ukraine with jobs.